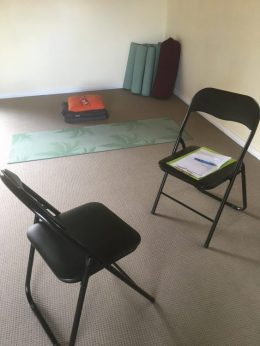 Yoga therapy is a private session where we explore what yoga practices suit you personally.  Yoga Therapy empowers you to manage your own physical, mental and emotional health using the tools of yoga—breathwork, posture and bodywork, meditation and relaxation. It is suitable for those wanting to take an active part in their own journey to wellness.
Suzanne Ellis is a fully qualified Yoga Teacher, Yoga Therapist, Back Care Yoga Specialist, Level 1 iRest teacher, Somatic Yoga Coach and Ayurvedic Practitioner.  A commitment to at least three appointments is essential for Yoga Therapy.
Clinic Times:
Monday afternoons
Tuesday all day and evening
Wednesday afternoons
Thursday evenings
Friday mornings
Areas of Specialty Include
Anxiety, stress, PTSD, depression, anger, fear and grief
Fertility
Back Care and musculoskeletal problems (stiff hips, neck and shoulders etc)
Arthritis
Breathing Disorders
Autoimmune diseases
Menopause
Cancer care
Pre and post surgery
Weight control
Cost for six consultation is $450. Subsequent consultations are $75
Ayurveda
Suzanne Ellis has also trained as an Ayurvedic Lifestyle Consultant in 2015 and continues under the mentorship of Dr Rama Prasad.  An Ayurvedic consultation consists of an analysis of your body type and tongue analysis. Ayurveda originated in India and goes hand in hand with yoga, focusing on overall health and dietary needs.  It is a system of healing and in Sanskrit, ayur means life or living, and veda means knowledge, so Ayurveda can be defined as the "knowledge of living".