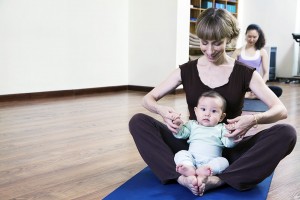 In Mums & Bubs Yoga we focus on re-connecting with our bodies.  We concentrate on strengthening the pelvic floor and core muscles, enhancing mum's energy levels and releasing tight shoulders and upper backs caused by endless hours of holding baby and breastfeeding. We also focus on using the breath to relax.   This class is suitable for bubs from 6 weeks (8 weeks if Caesarian birth) to 10 months.
11.15am Wednesdays. Starts July 24 and runs for 8 weeks. (No class on August 7 or September 4) Last class September 25)
11:15am Thursdays.  Starts July 25 and runs for 8 weeks.
Cost $125 per term.  Casuals $22 (note casuals are only available once term has commenced if space is available)
Full for this term. Next term commencing October 21. Bookings open September 16.