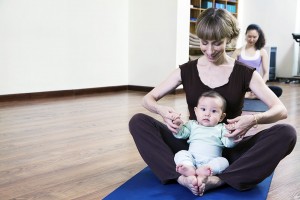 In Mums & Bubs Yoga we focus on re-connecting with our bodies.  We concentrate on strengthening the pelvic floor and core muscles, enhancing mum's energy levels and releasing tight shoulders and upper backs caused by endless hours of holding baby and breastfeeding. We also focus on using the breath to relax.   This class is suitable for bubs from 6 weeks (8 weeks if Caesarian birth) to 10 months.
11.15am Wednesdays. Starts July 21 and runs for 8 weeks.
11:15am Thursdays.  Starts April 22 and runs for 8 weeks.
Cost $150 per term (8 classes)
Casual Classes $25
Due to Covid Restrictions students must bring  their own mat and props wherever possible.
Please view our Covid 19 Policy here.